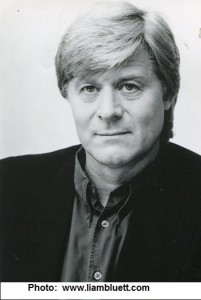 A few years ago I went to see a production of Shakespeare's "Twelfth Night" without knowing who was going to be in the cast. My wife and I just decided to go, bought the tickets and didn't even stop to get a programme (or even look at the poster) before we took our seats. Going into a play cold, without knowing who's in it, who's directing it or whether this show's got any good or bad reviews, means you just don't know if it's going to be any good. At least the writer was half-decent.
However, all doubts about the quality of the production were dispelled as soon as one actor appeared on stage. I recognised him as the most dependable, reliable and consistently good actor in the UK. All would be well, even if the rest of the cast or the direction stank, because out there was Martin Jarvis as Malvolio.
Here at Flare Players, we've consistently maintained that the British actors that emerged in the late 60s and throughout the 70s had this power and dynamism about them, raw sexiness or dashing beauty, a dangerous crowd who could light up a screen or demolish it entirely without taking any prisoners. With all due respect to Martin Jarvis, he brings something else to the party.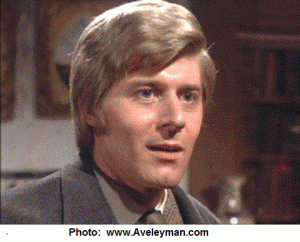 Let's use a sporting analogy here. Back in the 70s you had your dashing footballers, cricketers or racing drivers. Charlie George, Alan Hudson, Rodney Marsh, Stan Bowles, Ian Botham, David Gower, James Hunt, Jackie Stewart. Then you had the guys who were good, very good, didn't flash the talent around so gaudily but you could easily have them in your team knowing they'd do a great job week in and week out. Ray Wilkins, Gordon Banks, Graham Gooch and Niki Lauda. It's this latter kind of group which, I think, is more akin to Jarvis.
Jarvis is probably the most dependable actor in the UK. I don't just mean in terms of turning up on time, I mean he consistently delivers a high standard of performance to the point that by merely casting him in a role, the director need never worry about him: Jarvis has got the part covered. More than any other actor working today, he understands a role through and through and few are as good as interpreting the intentions of a writer.
His background is classical British thespian: RADA, rep, the West End, BBC drama, comedy and the realm in which he is the undisputed king…radio. He comes from a long and proud tradition of British acting, slotting effortlessly into its ranks. He's worked with the greats (Gielgud et al) and learned from them but Jarvis has a fantastic quality that few of his profession and generation have equalled: Mastery of the text.
You don't direct Martin Jarvis in a role: You let the author or playwright do it. Any mention of a personal characteristic in the text, a voice, intonation, way of standing or moving and he's onto it. A character is not created by Jarvis; it is made flesh from the printed page. He intuitively understands Shakespeare, Dickens, Wodehouse and, quintessentially, Richmal Crompton, author of the Just William stories. A minor character such as Frank in "The Pallisers" is given so much more depth just by the way Jarvis delivers a line or casts a glance. He knows what's going on with the characters which is why he's pretty much the go-to guy for costume drama.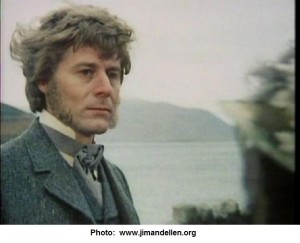 Then there's the sitcom. It's been largely forgotten about these days but at the time of its original broadcast between 1979 and 1981, "Rings On Their Fingers" was one of the highest rated programmes on British television at that time. It's a perky middle class sitcom which reflects on the changes in that format from the start of the decade because it features a couple who've been living together but not married which means they…erm…have had…erm…sex before…erm…getting married. Tame stuff now, but in 1979 it was a mainstream comedy that acknowledged that kind of relationship. Jarvis, in the male lead, brings a kind of manic, driven energy to the role of Oliver Pryde in much the same way that Richard Briers gave us the loose cannon of suburbia that was Tom Good. Of course, Jarvis is a natural at comedy and I'm surprised he hasn't had more sitcoms on his resume.
Along the way there's been the odd movie, dozens of guest starring roles in British and American TV drama and radio aplenty. In every role he is terrific, a reassuring presence for those who have seen his work and have come to admire him as an actor. His credits are many and he is usually in work; it helps that he and his wife run their own production company making radio drama and audio books. In this latter part of his career, he's gained the accolade of being the Olivier of the audio book; perhaps a strange title but if you've heard his work you'll be sure to agree. He survived the Flare Players era with his career intact, unlike many of his generation, mainly by being trusted by directors and viewers (and listeners) alike.