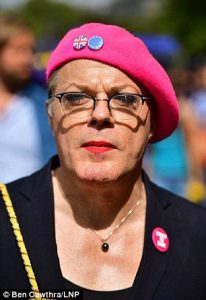 LONDON……..NOW!
Fans of the one time comedian Eddie Izzard have paid moving tributes to his once ribald sense of humour, which died recently. "He was an original" said comedy fan Geoff Cheddar "we all remember when he stormed the comedy world with his 'le singe est dans l'arbre' routine; trying to make his schoolboy French lessons relevant in the real world. We thought we'd discovered a new comedy hero then and there. So imagine my shock and sadness to discover that his funniness just died tragically."
"I was devastated when I found out he was no longer funny" said fellow fan, Megan Crisp. "It seems like only yesterday when he was having us rolling around with laughter at U-Boat crews trying to pilot a miniaturised craft disguised as a fly, cats drilling for oil in his living room and, of course, lard. Now….it's so tragic, his humour was so full of life and now it's gone….GONE!"
Izzard had previously battled against being painfully unfunny before, when he tried to embark on an acting career. "Yes, his appearances in The Avengers and My Super Ex-Girlfriend caused us a lot of concern" said comedy expert Dave Broddy. "We held candlelit vigils, hoping he'd pull through and give up on acting and we all breathed a sigh of relief when The Riches was cancelled".
Izzard made a full recovery and returned to a fully fit comedy career, embarking on the most fruitful time of his career with his two magnum opuses: "Cake or Death" and "Death Star Canteen".
But tragedy struck soon afterwards. He contracted the disease "self-important politics" and was finding being funny increasingly difficult. It began with making commercials for voting, openly supporting the Labour party and eventually ditching comedy for making increasingly cringe-worthy political videos and public appearances. Soon, his comedy skills went into terminal decline.
"We could only sit on the sidelines and watch him painfully become more self-important and a crashing bore. He covered up his illness by wearing a pink beret….it was….so embarrassing to witness this once great comedian suffer." said Broddy.
Becoming a political bore and losing your sense of humour has afflicted other comedians over the years: Rob Newman, Stewart Lee and Mark Thomas, although in his case it's hard to find a time he was ever funny. The causes for why comedians attempt to be politically relevant is still largely unknown but once the disease is contracted, the death of humour follows in 100% of cases.
"We will keep trying to find a cure" said comedy expert Dr William MacAnally. "But in the meantime the best course of action is to keep comedians well away from trying to make serious political points in the first case. The loss of humour and joy is too painful for fans to bear".