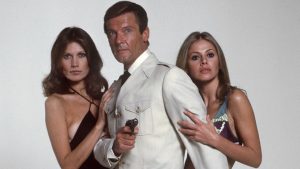 With Sir Roger Moore's passing, lots of people (especially in the media) are paying tribute to him and indeed re-evaluating his career and tenure as James Bond.  As I am (slowly) sharing my thoughts and analysis of those movies I wanted to write something about Roger Moore as Bond before we get to his era in my reviews.
Since he stepped down from the role, time and critics haven't been too kind to his portrayal of James Bond.  We've had grittier Bonds, more introspective Bonds, tougher Bonds and more action packed Bonds.  His era has all too often been dismissed as too camp, too jokey, too ludicrous and Moore himself as too lightweight, too limited an actor and in the end, too old.  Nowadays, it's the default position to either declare Sean Connery or Daniel Craig as the best Bond actors…with some fans rooting for Timothy Dalton or Pierce Brosnan….and Roger gets relegated to being seen as the second worst Bond (although I'm sure someone will make the case that George Lazenby was better than Roger).
But there's an important point that gets missed out in these discussions, and one I hope the obituaries will cover,  that is Roger Moore was the actor everyone in the 1970s wanted as Bond and that, back in the day, there were avowed Roger fans who believed he was a better Bond than Sean.  The Sean fans to Roger fans roughly numbered 50-50 which is a testament to the impact and legacy Roger had on the role.
Let's go back to his casting in the role in 1972.  Sean had made this tremendous impact as James Bond and replacing him was extremely difficult.  George Lazenby was tried and he left after one movie; his choice but in the narrative of the critics it was down to him being a) a male model and not an actor b) being an unknown and c) he was Australian and not British.  For Diamonds Are Forever, United Artists (who bankrolled the Bond movies) insisted on bringing back Sean Connery and bow to his every demand just to steady the ship and keep the series going, but it was always going to be a one shot deal:  Someone else would have to be found after that.
The experience with Lazenby affected United Artists profoundly and they set the pre-requisites as to who should be the next James Bond:  No unknowns, only an established leading man style of actor and British.  In 1972 that meant one person:  Roger Moore.  Fortunately, Broccoli and Saltzman agreed and as it happened they were friends with Roger so a deal was struck to universal approval.
We have this idea nowadays that Roger was a big movie star before becoming Bond but the role was as much a lifeline to him as casting him was a lifeline for the Bond series.  Roger was a star, but mainly a television one.  In the late 1950s he'd landed a prime role as Sir Lancelot on British television before he tried his luck, the first time, at Hollywood stardom.  The films he appeared in weren't financial or critical successes but he hit it big when transferring to American television to join the hit show, Maverick.  After that, it was back to the UK to star in the phenomenally successful TV version of The Saint; Roger becoming arguably the definitive Simon Templar (even getting the approval of the character's creator, Leslie Charteris).  The Saint was internationally successful and made Roger a huge star…but it was still TV.  After the show ended in 1968, Roger tried his hand again at being a leading man in the movies but although Crossplot and The Man Who Haunted Himself are decent movies and show Roger's leading man credentials, neither were financially successful.  So it was back to TV to co-star, alongside Tony Curtis, in The Persuaders:  A show where the stars are so famous, they get billed as "Curtis and Moore".  Another hit…but only in the UK and Europe, not America.  With the show's cancellation in 1971, Moore was a star with no vehicle to star in.  A big TV personality but not a movie one…which is where Bond comes in.
Roger's tenure suited the times:  A decade that was bright and brash now got a style of James Bond that went with it.  Roger lightened the tone because the world, and audiences' tastes, had moved on.  Also, it became more and more important to pander to American fans and rely on the American box-office for success so Roger, and the movies, had to play the character as more broadly British to fit in with global preconceptions.  His era as Bond can be divided roughly into two halves:  The first half (Live and Let Die to Moonraker) is more outlandish, garish and pushes the boundaries of credulity.  The second half (For Your Eyes Only to A View To A Kill) sees Roger's Bond as more a late-era Cold War warrior who has matured in his judgement, if not in his propensity to joke around.  Roger himself is far more physically active in those first 4 movies than in his last 3 and he has probably used blue-screen more than any other Bond actor.  There were always disparaging remarks made about his age when he played the role and, yes, you can make very good arguments that he should have stood down from the role after either Moonraker or Octopussy.  But he was always dependable in the role, a safe pair of hands and if people wanted a change, they were often reluctant to name his successor when push came to shove because every actor mooted came with risks and Roger was a star whose persona impacted on the character of James Bond.
As I mentioned in an older blog post of mine, The Men Who Would Be Bond, http://rhubba.com/men-bond/ there certainly were very fine and capable British actors who could have been James Bond in the late 70s and early 80s but Roger's dependability, name recognition and star power kept them out.  Only when he absolutely had to be replaced (and with one Anglo-Irish actor emerging as a star in the 80s) did serious talk about casting take place, and in the end the questions over humour and star power in Bond movies lingered on which acted like a millstone around Timothy Dalton's head during his tenure.  When Pierce finally got the role, it turned out that his Bond would be largely a hybrid of Sean's and Roger's version.  Moore left a huge legacy in the role, and one that gets unfairly ignored since he stepped down.
One of the oddities of Moore's time as Bond was in the 1983 "Battle of the Bonds", between him and Sean Connery's rival "Never Say Never Again" movie.  All the criticisms of Roger as Bond coalesced when it was announced that a rival Bond movie was going to be made and that Sean would star in it.  Even before anyone had seen Never Say Never Again, the critics were already convinced that it would be better than the official Octopussy simply because Sean was back in the role.  As Roger himself wryly put it "it was the first time I was critically savaged for a movie I wasn't even in".  In the end, Roger won:  Octopussy is a better movie than Never Say Never Again and even though Sean was great, Roger's unflappable manner held his own admirably and at no stage was he a detriment to the movie.
Looking back, Bond fans compile their list of their favourite Bonds and Roger is usually listed as 2nd worst, or at least 2nd least favourite.  Sean still looms large at the top with Daniel, Pierce and Timothy left to duke it out for silver and bronze.  Those four actors, in their own way, embody Ian Fleming's literary character better than Roger did; his interpretation being very much personalised to himself.
However, let's not lose sight of what Roger did bring to the role and the series:  Entertainment, fun, excitement, wit and style.  His films should be viewed as primarily fun and engaging and he should be re-evaluated as the best actor for Bond in his time.  Whether that time should have ended in 1979, 81, 83 or 85 is up for debate but those first 4 movies of his should be regarded as epitomising the special qualities he brought to the role of James Bond.