By NICHOLAS HUGHES
"To look for a new James Bond is one of the most impossible jobs in the entire world".
These are the words of Debbie McWilliams, the head casting agent for the Bond movies. It has always been thus. The furore of casting Daniel Craig is just another episode of the ongoing search for "the one": The actor to play the greatest male fantasy figure in popular culture.
It's now par for the course that every male British actor between the ages of 21 and 45 is, at some point in their careers, linked to the role of James Bond. Such is his power and hold on the public that no other British fictional character comes close to having every thesp linked to it. The newspapers don't get in a frenzy over who is going to be the next man to play Robin Hood, or Sherlock Holmes or even Biggles. Acting coaches say of their brightest students "he has what it takes to be a great James Bond" not "he has all the qualities of being a great Bulldog Drummond". An actor may say that the pinnacle of his profession is to gain an Oscar, or BAFTA or recognition for being a great Hamlet at the RSC but deep down everyone knows that to bag the role of James Bond is the real prize. True, playing the Dane will always carry prestige and honour, but Bond puts you on the map.
In cinematic terms, he's the greatest British hero of the screen and who is to be the custodian of the role is taken very seriously. The press draw up short lists of likely candidates, and the public speculate on who would have the best qualities for 007. Bizarrely, as soon as one actor actually lands the role, the speculation then turns to who his successor will be.
The movie going public have their prejudices about who their ideal Bond would be: The die hard curmudgeons who think it's Connery and Connery only. The purists who have read all the Fleming canon and think Dalton is the closest. The dewey eyed wives and mothers of the world who have shrines devoted to Brosnan and a whole generation of Americans who love Moore's humour and camp sense of fun. Oh, and there are a couple of amateur film critics out there who can make a convincing case for Lazenby as well. Craig might top all of them in due course.
As for the rest; those touted but never to get the coveted 00 status, they seem to fall into two camps: The "you cannot be serious" names such as Burt Reynolds, Hugh Grant, Michael Gambon, Heath Ledger, Mel Gibson and Cary Grant (only ruled out on grounds of age) to the "he would have been good" crowd that includes Patrick McGoohan, Richard Harris, Clive Owen and Christian Bale (still young enough to take over when Craig steps down). The casting debates tend to follow predictable lines: Throw in the hottest British actors of the day, throw in some big American box office names (discount them immediately because an American playing Bond would kill the goose that lays the golden egg), some Australians (although the spectre of "we don't want another Lazenby on our hands" still looms) and a few professional male models as well. Finally, the job always goes the quiet one who's been biding his time. The guy who has been rising steadily through the ranks and who has the self confidence not to be desperate for the job. The guy who's been doing "good, solid work" in the meantime to prepare himself for the role. Unlike the "can England play both Gerrard and Lampard?" debate, there can only be one Bond at a time (we don't count the two exceptions to this rule) so when Craig got "Casino Royale", Owen ended up with "Shoot 'Em Up". Sometimes life isn't fair.
It certainly wasn't between 1968 and 1985 for our Flare Players. Never before in British movie and TV history were there so many candidates to play James Bond. Terence Stamp, Albert Finney, Patrick Mower, Nicky Henson, Anthony Andrews, Michael York, Stuart Wilson, Robert Powell, Simon Ward, Graham Faulkner, Anthony Hopkins (let's face it, "When 8 Bells Toll" was his Bond calling card), Peter Egan, John Richardson, John Moulder-Brown, Jon Finch and the four who would go on to be considered seriously for the part: Ian Ogilvy, Michael Billington, Lewis Collins and Simon McCorkindale.
Those four were the subject of a lot of media speculation about being cast as Bond at the time. These days they're the subject of a lot of "what if" parlour games. No doubt they would have had the presence, charisma and acting chops to pull off the role. There were just two problems for them to overcome: America and Roger Moore.
After losing money on a 90 minute paranoid LSD trip called "Performance", America went off British movies and TV…big time. It happens every so often: the Yanks reach out and embrace foreign culture (in the 50s it was Italy, in the 60s it was the UK) but then they snap back and retreat to within their own culture and are happy to dwell there for a few years. Despite the willingness of Britain to export "The Avengers" until Doomsday, the Americans had simply gone off it. It was like a rich food they had had enough of and now it was back to steak n' potatoes. American movies and TV had caught up with the rest of the world and didn't need to import anymore. The balance had shifted and now it was the UK trying to play catch up with them. There was no way we could give the world a movie like "Shaft" or "The Godfather".
The Americans still wanted James Bond, however. He still spoke to them in a language they could understand but for the relationship to continue, he had to smarten himself up for the Seventies. The legend goes that Cubby Broccoli and Harry Saltzman had taken a relative unknown in Sean Connery and made him James Bond, although in reality Connery had been working his way steadily up the ranks and had made a Disney movie that had put him the public consciousness. Broccoli and Saltzman tried their luck with a true unknown, George Lazenby, but with more mixed results. After that and the decline of British influence in Hollywood, the big studios who bankrolled the movies took a decision: No more unknowns. The short term solution to that was to get Connery back for one more movie. The longer term one was to get Roger Moore.
You always know where you are with Moore: He's breezy, charming, handsome (albeit a bit foppish), with a self deprecating wit and a leading man presence. Contrary to popular myth, he's not a bad actor, but one who is more than happy in a comfort zone and who doesn't want to push himself to the limit. What he brought to the role of James Bond were all the above characteristics. What he didn't bring was character depth. Whether it was his decision or the producer's, the agony of James Bond's past, the ruthlessness and the motivation of such a man went by the wayside, only to be casually referenced in the opening of "For Your Eyes Only". America was happy with the decision of casting Roger Moore and he stayed in the role from 1972 to 1985.
However, his tenure was always under threat; both from within and outside. Cubby Broccoli was a man who had attracted a lot of loyalty and respect during his professional lifetime. He was also a hard nosed businessman. Moore had frequent conflicts when it came time to negotiate his contract and on more than one occasion (and after every movie from "Moonraker" onwards) he was either poised to quit or risked getting fired. He also faced a barrarge of negative press, particularly in the UK, over his portrayal of James Bond and his grip on the role was by the tips of his fingers.
So the four Flare Players: Ogilvy, Billington, Collins and McCorkindale were kept on stand-by. Various commentators in the newspapers all had their favourite successor, as did the general public. Like a modern day War of the Roses, the factions lined up their chosen heir to the throne, waiting for the day when the old king (and he was visibly getting old with each passing movie) would pass on and a pretender could be crowned in his place.
The popular press' favourite was Ian Ogilvy and it's not hard to see why. Eton educated (like Bond), debonnair, classically trained as an actor and fantastically handsome, he even had the twin advantages of looking similar to a young Roger Moore (right down to a strategically placed mole) and having played Simon Templar, "The Saint". Should Moore suddenly retire or die, Broccoli could have substituted Ogilvy and few would have noticed…other than a sudden improvement in the dramatic acting. Ogilvy had a pretty good acting CV as well: Having made a name in the Hammer movie "Witchfinder General", he went on to have a scene stealing supporting role in "Waterloo" before going on to conquer 70s British television in "Upstairs, Downstairs", "I Claudius" and "The Return of the Saint".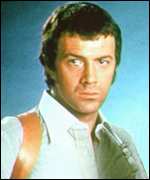 The people's choice was Lewis Collins. From an unlikely start in showbusiness (drummer in the Merseybeat group, "The Mojos" and a stage musical actor), he established himself as the premier action man of television. More ruggedly handsome than Ian Ogilvy, with a trademark furrowed brow and clenched jaw, he won fans worldwide through his role as Bodie in "The Professionals": British TV's first purpose built wet dream for boys. When Collins performed a stunt, you could be sure he actually did it. When he downshifted the gearstick on his silver Ford Capri and threw it wildly into a corner, it was him and we all knew it. Roger Moore became increasingly dependent on his stunt double, but for the Bond fans the thinking was, if Lewis Collins was cast, then we all knew it would be him falling out of that aeroplane in "Moonraker" and wrestling for the parachute. We would know it was him, and not some stuntman, who would be in a French taxi that would have its roof ripped clean off. Everyone in the world could see Lewis Collins cause mayhem…except for the Americans who never got to see "The Professionals", and it was they who had the biggest say in things.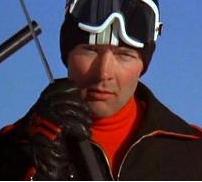 Michael Billington was the knowing fans' choice. Bond afficionados all know that he tested more times for the role than any other actor: 1968, 1970, 1972, 1980 and 1983. He seemed to spend half his career with one hand poised to answer "the call" from Cubby Broccoli. The closest he ever got was playing a Russian spy called Sergei who is sent to kill Bond at the start of "The Spy Who Loved Me". It's a small role, with 4 lines and all over by the end of the pre-credits sequence but on the plus side his role is pivotal to some of the action that follows and that he starts the movie in bed with Barbara Bach. As for his Bond credentials, Billington did it the way his contemporaries did; via notable television roles. His first was in Gerry Anderson's UFO playing the requisite action man of the series, Colonel Paul Foster. Watching those episodes you get the sense of what kind of Bond he would have been; athletic, sexually confident around women but with a sense of naievetie and a trust in "the system" to protect him. In short, he would have picked up where Lazenby had left off in "On Her Majesty's Secret Service". His rise thorugh the ranks should have been smooth: Lots of quality costume dramas, "The Onedin Line" and "War and Peace", and a couple of action shows like "Spearhead" but either by design or not impressing the right people, it went downhill from 1978.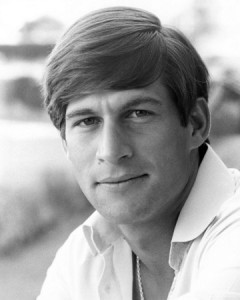 Simon McCorkindale was the compromise choice, and one who would have appeased the Americans as well. He was a classic Flare Player in that he had the looks, the charm, the abilities of a leading man and despite a patrician sound and air about him, he didn't seem defined or shackled by it. He could be the upright hero ("Riddle of the Sands") or the conniving cad ("Death on the Nile")…both aspects needed for James Bond. And Hollywood liked him. More so than many of his contemporaries, the Americans were prepared to embrace him. He pre-dated Pierce Brosnan's conquest of American TV with starring roles in "Falcon Crest" and "Manimal" and as the other contenders dropped out to become Moore's replacement, he seemed well placed to take over.
If you were an avid TV fan in Britain in the 70s, you could see these men's talents and virile screen presence for yourself. The trouble is, Britain only accounts for a fraction of the box office to make a Bond movie a hit. He's our top spy and has done more than any other fictional character since Robin Hood and Sherlock Holmes to put Britain on the map but at the end of the day, even 007s fate is squarely in the hands of the Americans. For a few New Yorkers or Bostonians, they could watch Ogilvy in "I Claudius" or Billington in "The Onedin Line" on PBS and just maybe a flicker of seeing the future James Bond would be there, but to Mr. And Mrs. Average of Buttface, Arizona, the Flare Players meant nothing to them. "No unknowns" said David Picker, head of United Artists, who held the purse strings to the Bond movies and a whole generation of British actors were discounted from landing the biggest British film role in history. If Moore had gone to the wire over contract negotiations and had dropped out from playing Bond then maybe, just maybe one of them would have been given the chance. But maybe the US press would have ended up savaging them and pining for the lamented Roger Moore. The British press continued to bemoan his performances and the Bond movies themselves but he was always the charmer and us fans would forgive him a great deal. After all, he wasn't a bad James Bond and most of his movies were good. Most.
In the end, it was Timothy Dalton…the quiet one who had been steadily building up his portfolio…who took over from Moore (as history shows, Brosnan was also contracted but only after Dalton turned the role down once). For most, it was a matter of timing and in the race to land the role of Bond, that's everything. In the 80s, it was down to Roger hanging on too long for the others to take over. Ogilvy was getting older and didn't have that youthful spring to his step that he had in his earlier roles (although his face hadn't aged a bit…and still continues to defy the process to this day). Collins' big dash to be considered for Bond had come and gone and by 1985, he was in direct to video hell. Billington, dutifully waiting on the stand by list, was also too old and winding down his film acting career (not by choice either) and McCorkindale was merely bypassed. Dalton timed his move well; he'd been doing a lot of glossy American mini-series playing dashing counts or roguish charmers in the run up to "The Living Daylights" which did the job of making his name known to American audiences. The trouble he would find is that a lot of Americans had in their minds a certain Mr. Brosnan for the role. The world embraced Dalton, but America hankered for Brosnan. And there is a lesson in that: Charming your own public is one thing, charming Americans is quite another. They pay the pipers and they get to call the tune but let's not be too hard on them: They usually choose the right actor, but looking back at the post-"Moonraker" Bonds, one can't help but wonder what those movies would have been like starring one of our Flare Players.