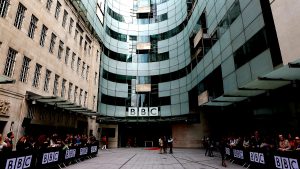 The British Broadcasting Corporation has announced bold new plans to ensure that at least half of all its on-camera, technical and administrative talent will be utterly incompetent and useless at their jobs by 2020.
"We've set some tough targets over diversity" said Andrew McMurtie, the head of recruitment and diversity policy at the BBC, "we want more non-whites, women, disabled and LGBT represented in the corporation in order to better reflect modern British society but one area that we've been working tirelessly towards is making sure that half of our employees have little to no idea on how to make TV and radio programmes."
"Looking at other sectors we've seen pollsters, mobile phone companies, online customer support centres, video game developers and financial experts all have a diverse range of numpties and buffoons working in those sectors and we don't want to be left behind."
The BBC board has set these targets in the face of stiff competition from other networks and new media platforms. McMurtie explains "at the moment we're looking at Channel 4 who have raised the bar on incompetence by the way they grabbed The Great British Bake Off from us but failed to secure any of the talent associated with it.  And this was basically a one-themed cooking show in a tent!  ITV had reached the 50% incompetence level some time ago and are now very much the pace setters for mediocre crap."
In a fast changing digital world, the BBC wants to see more poorly put together content by people who have only the vaguest idea of how to make decent, or even watchable, television and radio. "At the BBC we have a long tradition of nurturing talent; now we want to expand on that and nurture incompetence, nepotism and judging people solely on external values.  For too long the industry has been dominated by creative and visionary people and that's been a deterrent for mediocrity."
The Now Show returns to Radio 4 in December.