Continuing our piece about the great special guest star actors of British and American television. If you missed the first part you can read about it here:
http://rhubba.com/special-guest-blog-2/
So, here is part 2. More ubiquitous actors from Britain and America.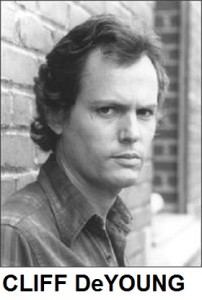 Who hell he?
Cliff DeYoung specialises in playing slightly creepy official types; think of him as Bruce Dern's little brother.
That worries me
Not quite as menacing or as imposing as Dern, DeYoung is nevertheless a very good actor who has worked almost non-stop over the last 40 years.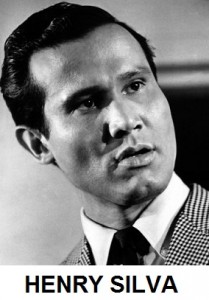 So THAT'S his name!
Ah, you recognise him. Yes, it's Henry Silva who has graced film and TV screens for nearly 60 years now.
Can you straighten something out that's been bothering me all these years: Is he Japanese, Chinese, another Far Eastern nationality or Mexican?
None of those; he was born in Brooklyn to Spanish and Italian parents. He has played every ethnic type under the sun, it seems.
Any other trivia
He was a friend of Frank Sinatra's and appeared in a few of his movies. He also appeared in the very first martial arts fight in Hollywood film history, again with Sinatra, in "The Manchurian Candidate".
I thought that was with Denzel Washington?
Get your things, and GET OUT NOW!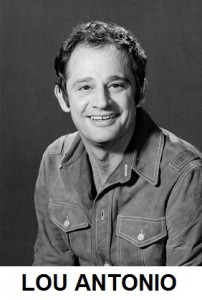 Who hell he?
Lou Antonio? He's been around for years, a great character actor who could act any co-star off the screen. He's also a TV director who has helmed episodes of everything from The Rockford Files to The West Wing.
So what would I have seen him in?
Sole Survivor….that TV movie about the crashed WW2 bomber in the Libyan desert which still has the ghosts of the crew living there.
Nope.
OK, "Cat and Dog", which was Kim Basinger's very first starring role.
Nope.
How about Loki…the alien in Star Trek who was black down one side and white down the other.
"HE'S BLACK….ON THE WRONG SIDE!"
Now you're with us.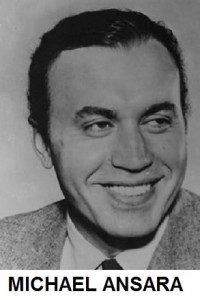 KHAAAAAAAANNNNNN!
No, Kang. Get your Star Trek villains right.
Sorry, but I do remember this guy.
And so you should. He's one of the best character actors in Hollywood over a 60 year period.
Wow, I also remember him playing a stern Genie in I Dream of Jeannie.
You're right. And he was married to Jeannie in real life.
Respect!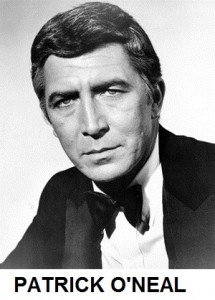 With a photo like that, he should be called "Manly McMan-Mann"
Patrick O'Neal existed in a twilight zone between being a leading man and a guest starring character actor. He had the distinctiveness and presence of the former which made him a superior supporting star.
Didn't he do a lot of movies as well?
Yep, King Rat and Castle Keep being two of the more famous ones.
And soap operas?
Only the big budget glossy ones. The man had standards.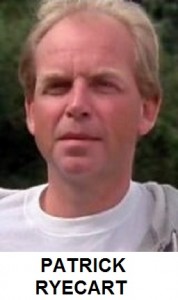 Another Patrick?
A British one this time. Ryecart, P was a ubiquitous presence in British and American drama shows during the 80s and 90s.
He has cad written all over him
Yep, it's the guy's stock in trade. Brooding stares from prominent blue eyes helps. He could also effortlessly veer from playing a stock British villain in a glossy Hollywood prime time drama, to guest starring in Dr Who and appear in a George Bernard Shaw play. Being able to switch formats easily meant you were likely to see Ryecart in something sooner or later.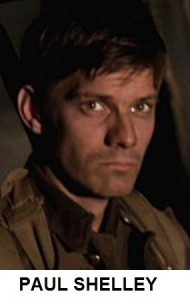 He's been in the wars. Who hell he?
Paul Shelley has done his fair share of war dramas in his time.
He was Wycliffe, wasn't he?
No, that's Jack Shepherd.
Avon in Blake's 7!
No, that was Paul Darrow but Shelley did guest star in an episode.
Blimey, he looks like a lot of people. I guess that leaves me with the guy who was Paul Temple and also the voice of Captain Scarlet.
No, that's Francis Matthews who was actually Paul Shelley's brother.
I knew I'd get there eventually. What else?
All the major British dramas; Dr Who, Secret Army, Inspector Morse…he also had the lead in a WW2 spy drama called "The Fourth Arm".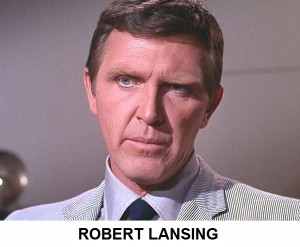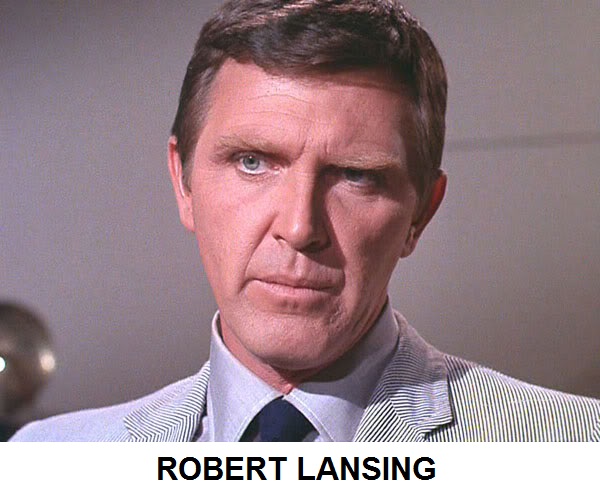 Looking like a more civilised version of Adrian Chiles there
The intense brow of Robert Lansing, again an actor on the verge of stardom but who made a successful career from being a scene stealing guest star.
I'm getting a whiff of Star Trek here
You'd be right, he was memorable as the mysterious time agent Gary Seven in "Assignment: Earth". He was also the world weary Control in "The Equalizer" and starred opposite Shamu the Killer Whale for Disney.
I bet he leaves that off his C.V.
Yeah, being upstaged by a whale isn't something to write home about.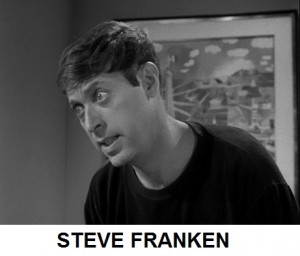 Before there was Howard Wolowitz, there was this guy?
Meet Steve Franken, perhaps the greatest scene stealer of all time.
How good was he?
Put it this way, he managed to upstage Peter Sellers in his own movie: "The Party".
Good Lord! That takes some doing!
I mean, Sellars is fantastic in that movie but Steve Franken's drunken waiter manages to go one better than the man who was Inspector Clouseau, Bluebottle and The Magic Christian.
That was an awful movie, why bring that up?
Sorry, my bad. But Franken was also fantastic in movies as varied as The Boston Strangler and Westworld. How he didn't end up with a long running sitcom of his own is a mystery.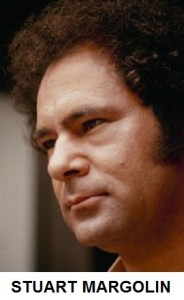 Who hell he?
I'm assuming you've seen "Kelly's Heroes"?
What functioning human being hasn't?
Exactly. Well Margolin played the put upon radio operator Little Joe.
Right. Got you now, that film had a lot of good supporting characters in it.
It did, and Margolin specialised in slightly comical, much put upon, complaining and a little bit shady supporting roles. One popular one was as Angel, Jim Rockford's contact on the street in "The Rockford Files". In fact, he won two Emmy awards for his performances in that role.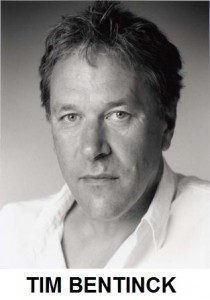 Who hell he?
Meet the 12th Earl of Portland, the 8th Count Bentinck.
Is that his most famous role?
No, that's who he really is. However, he goes by his name Tim Bentinck as it's easier to fit on the credits.
You don't meet many actors who are nobility.
You don't, and Bentinck is a reliable regular guest star in many British TV dramas and comedy shows. You name it, he's probably been the murderer in it. He also has starred in two sitcoms, Prince Among Men and Square Deal.
What's his most well known role?
Take your pick. He plays David Archer in the radio series The Archers and he's also the voice of Mind….the gap.
HE'S THE MIND….THE GAP GUY!
I guess you're not an Archers fan.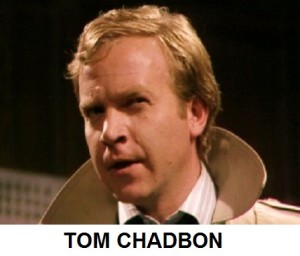 Hasn't he been in everything?
Pretty much, although there's no record of him appearing in Ant & Dec's Saturday Takeaway
Tell me more.
Chadbon is seemingly never out of work and when on form, he's a good TV actor who specialises in grey area authority figures.
Such as?
Flight of the Heron, Wire in the Blood, Chancer, Dr Who, Blake's 7.
What did you mean by 'on form'?
Chadbon can be guilty of phoning in a performance from time to time. He's always worth checking out in a show, but don't be surprised if he seems a bit bored by what he's in.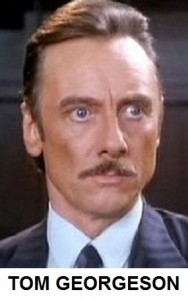 Can't sleep. Tom Georgeson will kill me!
Relax, he's 'acting'. Georgeson has carved out a niche in Northern authority figures who have worked their way up from the very bottom to become the man they are.
Distinctive features?
Prominent nose, intense stare, Scouse accent that never changes. As most British dramas require a tough and wily Northerner in their cast, he's regularly in work.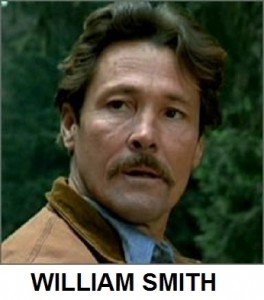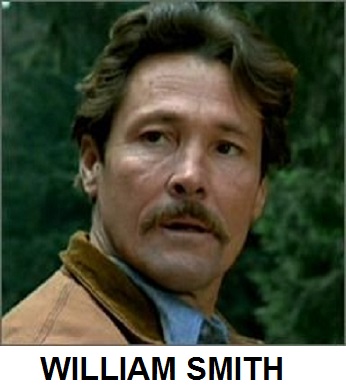 Him!
Oh yes, meet William Smith. An actor you've probably seen in countless American movies and TV series from the sublime Rich Man, Poor Man to the ridiculous Red Dawn. Probably one of the screen's best baddies.
Anything else?
Even without his phenomenal screen presence and long list of credits, Smith's life is nothing short of awesome.
Bodybuilder, a multiple arm wrestling and US Air Force weightlifting champion, he has a master's degree in Russian studies and is fluent in that language (which enabled him to speak his own Russian dialogue in Red Dawn) he also speaks 3 other languages which he learned whilst at the Sorbonne AND was seconded to the CIA in the Korean War. All this was in preparation for his role in "Invasion of the Bee Girls".