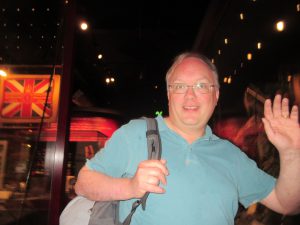 UNITED KINGDOM……NOW!  The world's most evil human being, Nick Hughes, today made a statement that he intends to "just get on with things and make it through the day".  The white, cisgendered, heterosexual male had only just realised recently that he was the world's most evil human being despite for years believing that he was an OK, even quite nice, person; nothing particularly special.
According to experts, Mr Hughes is an evil human being…perhaps the most evil human being who ever lived.  Being white ethnicity he is already pure evil, as Teen Vogue writer Lara Witt declared recently.


Ms Witt is a widely respected columnist whose Twitter account has not been suspended because Twitter CEO Jack Dorsey has deemed her statement not to be racist.
Mr Hughes was shocked at the revelation that he is evil because of his ethnicity said that "the news has cast a bit of a damper on my morning, I'll just have to plough on and get through to lunchtime without doing anything evil".
Later on, he discovered that he is doubly evil because he's male.  Everyday Feminism magazine said that despite Mr Hughes feeling he is not a danger to people around him " you're giving yourself and others a pass to continue performing the socially sanctioned violence of masculinity."  Another writer, Clementine Ford of the Daily Life magazine in Australia cut to the chase:

Ms Ford's statements have also not been deemed to have contravened Twitter's posting guidelines.  Mr Hughes then locked himself away for the afternoon just in case he committed acts of violent masculinity on someone.
Being married also makes him a sexist oppressor, according to law reformer Julie Bindel, having two sons is perpetuating the male patriarchy according to the entertainer Lena Dunham who advocates killing 90% of all males, just to be safe.  Also Hughes is heterosexual with a dating preference for heterosexual women who have vaginas…which makes him transphobic according to the transgender activist Riley J. Dennis.
And if that wasn't enough, Mr Hughes also has unconscious racial biases which affect all of his kind and according to MTV's Francesca Ramsey, he is also liable to pay reparations for his part in the slave trade which ended 185 years ago.  As a Christian who is a Godparent to three children, he's also a child abuser according to noted academic Richard Dawkins.  Having voted for the UK to leave the EU, he is also an uneducated lager drinking lout according to the sociology professor A.C. Grayling.  All these charges have been presented to Mr Hughes by a variety of people, most of whom have contracts with various mainstream publications, have active Twitter accounts YouTube channels and even appear on television but are in no way breaching legal, broadcasting or community guidelines by being racist or sexist, abusive or slanderous because it is impossible for these people to be guilty of such things.
And Mr Hughes didn't like the new Ghostbusters movie either.
A crestfallen Hughes said "I just wanted to get through the day the best I can…and now I discover I'm evil.  And to make matters worse, I didn't even get to run a country with an iron fist either.  So I'm evil AND a failure."
Mr Hughes makes his first reparation payment of £1-75 on Thursday.