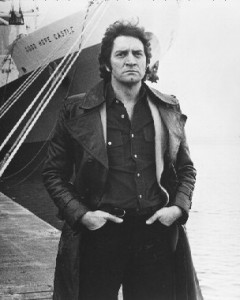 PATRICK MOWER
By DANIEL OLIVER
1973: a decisive time in the men's fragrance market. Bass noted musk, the disposable cartridge safety razor, soap-on-a-rope. There is everything to play for. But one man alone holds the key to success or failure, the litmus test of ski-suited, motor-boating masculinity.
Ladies and Gentlemen, I give you Patrick Mower.
(Round of applause, followed by the sound of a Ford Capri ploughing into the Thames.)
Patrick Mower was perhaps the definitive British leading man of the 1970s. He was cut from the hard stuff, poised halfway between Flashman-type upper class thug and Milk Tray-wielding medallion man. Mention his name and husbands would leap up from the Saturday wrestling with a cuckold's panic, their young wives swooning to the floor, leaving cakes made from Atrixo to burn in the oven.
Like the finest whisky, his persona was the end product of a long period of cultural distillation.
Primarily there was that burning, brooding stare of his. The edge of malignancy it possessed had defined the British male sex symbol since the late 1950s. During this time the likes of Stanley Baker, Richard Harris and Oliver Reed decisively detonated what might be termed the 'Michael Wilding School of British Leading Men', blasting their likes to smithereens with better musculature and better acting.
Mower's screen career started just as the Swinging Decade was finding its rhythm, completing a swift succession of bit parts in television dramas before a decisive opportunity to shine arrived in 1966.
His appearance in the 'Avengers' episode 'A Sense Of History', playing a smug thug of a university student with fascistic plans for global domination, impressed both audiences and producers alike. The blend of self-possessed charm and tensed, unsprung violence on show was an instant winner.
Almost immediately he was propelled into that strange apprenticeship in British screen horror which seemed mandatory for rising stars in the late 1960s. Starting with the lead role in a television supernatural thriller series, 'Haunted', he blazed onto the big screen the next year in 'The Devil Rides Out'.
This was damned good timing for Mower. Hammer Studios, not yet in decline, had managed to marshal the combined talents of Christopher Lee, director Terence Fisher and screenwriter Richard Matheson. The resulting film had class coming out of its arse.
More genre work followed on the big screen, including 'Cry of the Banshee' and the intriguing mess of 'Incense for the Damned'. Television, though, proved decisive in shaping him into the hirsute ubermensch that came to dominate screens in the following decade.
This process began early when he became a regular presence in ITC action adventure serials such as 'Department S', 'UFO' and 'The Adventurer'.
Then came a recurring role in Thames Television's revival of 'Callan', playing the cocky and possibly psychopathic secret agent James Cross. It fixed Mower firmly in the public imagination, like a magnetic mine on the hull of a holiday cruiser.

That he was able to do this in competition with Edward Woodward's central character was an achievement. Shining among plots filled with the murk, lurk and dirty work of counter-intelligence, it marked him out as a male lead in his own right.
Sure enough, when 'Special Branch' arrived down the tube in 1973 it was Mower who dominated the screen. He breathed new life into a flagging production as playboy DCI Tom Haggerty. By this time, the programme was already morphing into the type of hard-drinking, strip-club-busting cop drama which provided the main inspiration for 'The Sweeney'.
Sporting sideburns that probably needed their own warrant card, Mower's role here was only a foretaste of what was to come, smashing like a lag's fist into the faces of television audiences in 1978.
Following more film and television work including the part of Edmund in Thames Television's adaptation of 'King Lear' and the lead in fag-end British comedy 'Carry On England', the call to hard, manly action once again sounded in Mower's ears.
'Target' was planned as the BBC's answer to 'The Sweeney', a programme Mower had helped kick-start with the success of 'Special Branch' and in which he had also guest-starred.
Playing the aptly named Steve Hackett, he pummelled, kicked and shot his way through most of the criminal fraternity in the South East of England. In the process, he succeeded in rubbing the televisual equivalent of piss and vinegar in the eyes of The National Viewers and Listeners Association, an influential body at the time.
However, the rage for caveman-level policing was in decline by the early 1980s and with his television output so closely associated with the genre, Mower looked elsewhere to continue his career.
For most of the following decade, he combined occasional lead and supporting roles in one-off television dramas with work abroad and in the theatre. It seemed for a time as if he had disappeared off the radar entirely, before his career once again began to gain momentum toward the end of the 90's.
The public had not forgotten Mower. He had left too much of a mark (or a bruise?) on its collective consciousness all those years before. One temptation would have been for him to capitalize on the late 90's vogue for all things retro and emerge as a new, 'ironic' version of himself, in much the same way as Leslie Phillips or (ahem) Burt Reynolds.
But when in 2000 he took the part of suave entrepreneur Rodney Blackstock in long-running British soap 'Emmerdale', it was clear that Mower was tenacious and confident enough as an actor that he did not need to 're-invent' himself, ironically or otherwise.
Still the ladies man, the rougher edges were now gone from his screen persona and a good thing too. Mower has emerged as a softer, warmer screen presence, dependable and personable. On the basis of an appearance in 'Harry Hill's T.V. Burp', playing himself, one also senses a great flair within him for deadpan comedy, something it would be nice to see more of.
Is it a stretch to imagine Patrick Mower doing a 'Leslie Nielsen'? That is, beginning his career as a straight male lead before making the switch to comedy in later years? It's an interesting possibility…
In the meantime, though, it's just good to have 'The Mower' back on our screens and in the Woolpack, where he has yet to fire a shot in anger at anyone.
Until, that is, someone interrupts him in the shower and tries to make a grab for his soap-on-a-rope…