Judy Geeson
By Daniel Oliver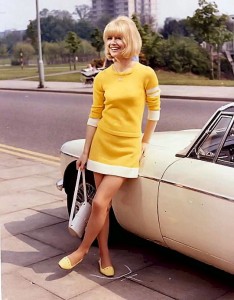 "For weeks I had hunted this girl, tracking her movements among the cafes, bars and nightclubs of Swinging London. Now at last I had her cornered in a small drinking booth in the Inferno nightclub, the hottest venue in Chelsea.
She was alone, in pastel slacks and jacket, a clutch of stray blonde curls poking out from beneath her maxi-cap as she sat drinking a bottle of pop, scanning the joint for friends who would never arrive. Slowly I pulled on my black leather gloves and advanced toward her.
By the time she swung round, meeting my gaze with those baby blue eyes of hers, it was already too late. My thumbs pressed deep into her windpipe and she struggled to breathe. There, in those last desperate moments, all I could do was give vent to that eruption of fever, like weevils, swarming through my black and maladjusted mind…"
"Barry Evans? In the back of a taxi? Are you mad?!"
(The above lines are of course satirical and do not constitute a legally binding confession.)
Judy Geeson's career is a fine example of the choppy waters that actresses in the 1970s had to navigate. Initially marketed as the type of blonde dolly-bird that Britain specialized in, for a time in the late 1960s this actress presented a version of modern womanhood possessing broad appeal. She had enough sweetness to remain unthreatening to older, more staid cinemagoers and enough sauce to keep the younger male audience watching.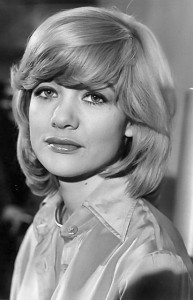 Though her appearance in 1968 psycho-thriller 'Berserk' proved more decisive in career terms, it was two films she made the year before, 'To Sir With Love', and 'Here We Go 'Round The Mulberry Bush', that brought her to international attention.
In the first, Geeson plays a schoolgirl from a disadvantaged background who blossoms intellectually and romantically in the presence of Sidney Poitier's unconventional schoolteacher.
In the latter, she is largely an object of desire for Barry Evans, resulting in a then-daring nude scene that would become the norm for many women on screen in the following decade.
This divide is telling. Those British actresses with the highest profile in the 1970s (Christie, Jackson, Rampling) were able to seize upon roles that combined both intelligence and sensuality. Most female performers during this time, however, rarely got such an opportunity.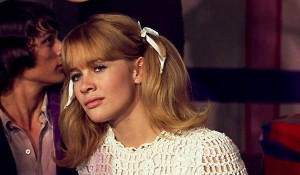 At the start of that decade, Geeson developed into an unofficial mascot for British horror thrillers (Goodbye Gemini, 10 Rillington Place), perhaps because as an actress she didn't do 'dumb'. This in itself was problematic in a decade where (male) producers struggled to clarify even their own thoughts about women on screen, let alone that of their audiences.
One minute, in 'Doomwatch', Geeson could be holding forth on matters of scientific, social and emotional complexity, the next, in 'Fear In The Night', she might be psycho-fodder, waiting for some maniac's gloved hands to close around her throat.
As the decade continued, television dramas such as 'Lady Windermere's Fan' and 'Poldark' provided a refuge from such homicidal attentions. But still the vast gravitational pull of the British Sex Comedy proved too great, with 'Percy's Progress' and 'Adventures of a Taxi Driver' adding their dismal presence to her C.V., along with the best-unwatched 'Carry On England'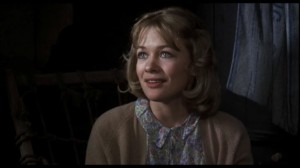 'The Eagle Has Landed' preceded a career upturn and a regular role in one of the most popular 70's television dramas, 'Danger UXB'. At the same time, a significant shift was underway within British film, though sadly it did Geeson little good.
Slowly but surely, the creative talents from television and advertising were taking over the reins of movie production, prising them free from tired industry veterans and porn magnates turning a quick buck on the likes of Mary Millington and Fiona Richmond. It was absurd to think that the individuals responsible for such tat in the preceding years could, by the close of the decade, have any hope of predicting market trends, never mind capitalizing upon them.
But some babies went out with the bath water and Geeson was one of them. It seems that when the money is tight, there are certain types of bad producer that keep certain types of good actor in work.
Observe the first-rate acting talent that the execrable Michael Winner was able to work with throughout the 1970's: Brando, Lancaster, Mitchum, etc. Such performers almost invariably come off worst, their reputation damaged while the backers have already taken the money and run.
British television was also far more politicised than domestic film. By some discreet osmosis, a feminist awareness began to seep into mainstream entertainment. This manifested itself as a succession of very strong (and frequently very rich) female characters, usually in glossy American soaps and frequently played by British actresses clawing back some self respect after a preceding decade spent taking their clothes off.
Geeson cut her losses. After the final indignity of Kenneth J Warren's 'Inseminoid', a tawdry 'Alien' rip-off in which she is stripped and raped by a slobbering alien life form, she emigrated to the States, taking up residence in L.A..
There, she has enjoyed a steady flow of high profile television work, including 'Murder, She Wrote', 'The A Team', 'MacGyver' and 'Star Trek: Voyager'. In 1992 she landed the recurring role of British neighbour Maggie Conway in the hit U.S. sitcom 'Mad About You'. Here, she was taken to the hearts of stateside audiences with that same warmth shown over two decades earlier, at the start of her screen career.
Geeson is probably too good-natured to bear a grudge, but the fact remains that she gave more to British movies than she ever got in return.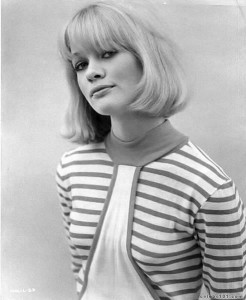 Despite this, it would be nice to think that, all these years down the line, there is still some corner of Los Angeles which is more Kings Road than Beverley Hills, perhaps with a maxi-cap gathering dust in a wardrobe somewhere.
Hopefully it isn't the part that comes with alcohol-free nightclubs or homicidal maniacs in tow. Or Barry Evans in a black cab, come to that…