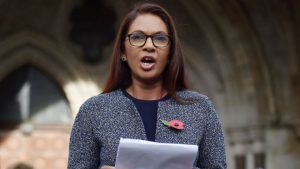 London.  The High Court has decreed that Ian Fairmile, 31, cannot quit his local gym without a vote by the gym management and owners.
Fairmile joined the gym 2 years ago but found that the facilities were sub-standard, the training programme to be lacklustre, the fees too high and the staff impolite and unhelpful.  He then announced his intention not to renew his annual membership which was then legally challenged by investment manager Gina Miller; who deemed his intention to quit the gym without a vote by the gym owners unconstitutional.
"I don't want to be in the gym!" said a frustrated Fairmile.  "I decided I didn't want to remain a member but somehow they've found some rule that means I can't quit!"
The Gym owners, Eurofit Limited, issued this statement:  "Ian's fitness is far too important a matter and we believe that in order to remain fit and healthy this matter must not be decided by him, but by a panel of experts in fitness…such as us.  And we say he should stay a member.  For ever."
Fairmile was then bundled into the back of a Eurofit van and taken for a 2 hour workout where they hope they can get him to change his mind.