When m'colleague Daniel Oliver and I came up with the idea of celebrating an era of British acting that straddled the 60s and 70s, we discussed just where this era would begin. Was there some moment in British cinema history where the old guard stepped down and a wave of new, brash talent took their places? At first, there didn't seem to be because the likes of Julie Christie, Charlotte Rampling, Terence Stamp and Tom Courtney had already laid the groundwork for the young acting talent that followed in the early 60s. Did the new, liberated Sixties style of film making start with "Darling" or "Billy Liar"? In part, yes, but there was still a grainy black and white, kitchen sink feel to those movies and the up and comers had to pit their skills against the establishment actors.
What we were looking for was a film that had shed the post war Rank charm school style or the kitchen sink look that had predominated after WW2 and instead embraced colour and a new hipness. A film that would feature the Flare Players as central characters without reference to what had gone before them. In short, a revolution not an evolution.
And we found one. An obvious one, really: BLOW UP.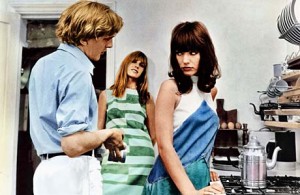 "Blow Up" features a bevvy of our Flare Players, many of whom were making their screen debuts. Not one member of the cast who had a speaking part was over 30 when it was made. It's not an examination of youth versus establishment; in "Blow Up", the under 30s are the establishment. The characters are, for the most part when we meet them, on top of their game, well established in their professional and social lives and have no need to butt heads and ideas with an older guard. There was also no need to introduce well known British stars into this movie because they were redundant for its purposes.
The lead role of Thomas could have gone to Terence Stamp, already an established star and soon to be icon but, for whatever reason, it didn't and the plum role went to an actor you would have only known if you had an interest in the operas of Benjamin Britten in the 1950s and spotted a talented schoolboy singer called David Hemmings.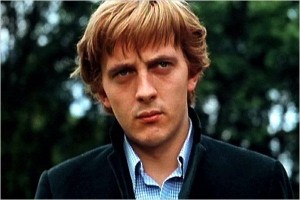 Vanessa Redgrave, playing the other major role of Jane, was established as an actress and coming from a famous acting dynasty certainly helped establish her with an audience but at 28, her career trajectory was still in the early stages of ascendency. The other significant roles were played by the kinds of actors who would effortlessly steal scenes and command your attention over the next 15 years: John Castle, Sarah Miles and a pre-telly cad Peter Bowles. None of them had done much beforehand except a few TV roles and the rounds of British theatre but "Blow Up" represented, for them, a chance to imprint themselves on a wider audience in a movie that was always destined to be a cultural icon.
The rest of the cast mixes up an even younger generation of Flare Players (Jane Birkin & Gillian Hills) with famous models of the Sixties (Peggy Moffitt & Verushka) and the you-don't-know-it-yet-but-they'll-be-famous-one-day Janet Street-Porter and Michael Palin as extras in the nightclub scene. "Blow Up", despite its youthful cast, combines a mix of the Sixties Zeitgeist mixed with a heavy dose of cynisism and jadedness and it's a tribute to the cast that, despite their relative inexperience, they are able to convey all that convincingly. The Swinging Sixties has only just started, and already they look bored and worn out by it all.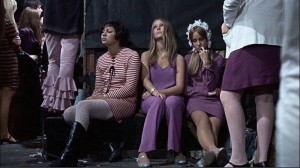 "Blow Up" asks a lot from these performers, and not just with the liberal amount of nudity and toplessness on show (a first for a mainstream British movie), but to simultaneously revel in, and then shrug off, the morals of the day. It's ground breaking stuff, to be sure, and maybe only a cast with only nascent careers to lose could carry it off convincingly. "Blow Up", a movie sparse on dialogue, requires more physical presence from the actors; not something you usually associate with British acting, but there it is from Hemmings' prominent eyes and decadent mouth, to Redgrave's tight lipped unease, Miles' seductive half-smiles and Jane Birkin and Gillian Hills scampering around rolls of paper in their tights. And for good measure, the movie is book-ended by mimes.
"Blow Up" is not a movie that would have come from the minds of British film-makers at that time. It may, a few years later, have come about but re-made as a sex comedy. No, it took an Italian, with Spanish and Italian writers, to see something in the British youth culture of 1966 that wouldn't shy away from sex, drugs, nudity, fashion and exploitation but equally it took a new generation of British actors to realise that Continental vision.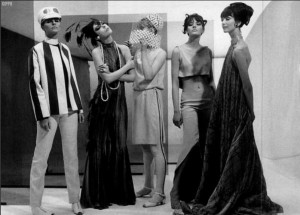 As quickly as Michaelangelo Antonioni and his crew arrived to give London in The Swinging Sixties its own movie, they left leaving behind a blueprint for mod-culture films following in its wake. As important as that was the unleashing of the next wave of British film and TV stars. Producers would now turn to these young, with-it faces over the next 15 years with varying success (but seldom because of bad acting) until another movie, it too a landmark British production, would ring in the next set of big changes and produce a new era of British acting. That movie would be "Chariots of Fire" and that's another story.